An Article Out Loud Flashback from the Domestic Preparedness Journal, November 23, 2011. 
Two major weather events that occurred earlier this year will be long remembered not only by meteorologists and historians but by the general public as well. Tornadoes struck the city of Joplin without warning and destroyed everything in their paths. Hurricane Irene was even more destructive – but at least provided some advance warning. The legacies of both will be studied by emergency planners for many years to come.
Narrated by Randy Vivian.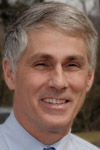 Theodore "Ted" Tully is the Administrative Director for Emergency Preparedness at Mount Sinai Medical Center in New York City. He previously served as Vice President for Emergency Services at the Westchester Medical Center (WMC), as Westchester County EMS (emergency medical services) Coordinator, and as a police paramedic/detective in Greenburgh, N.Y.  He also helped create the WMC Regional Resource Center, which is responsible for coordinating the emergency plans of 32 hospitals in lower New York State.