An Article Out Loud from the Domestic Preparedness Journal, January 04, 2023.  
When Category 4 Hurricane Ian crossed Florida in September 2022, more than 4 million Florida homes and businesses lost power. However, one town kept the lights on and was spared the devastation the cities surrounding it faced. With resilience and sustainability in mind, this author shares the planning involved in creating this resilient community.
Narrated by Randy Vivian.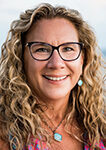 Jennifer Languell, Ph.D., is president and owner of Trifecta, which she founded in 2003 to help develop sustainable development and green building solutions. Her work has included the creation of award-winning high-rise, multi-family, and single-family residential projects, commercial projects, and some of the world's largest and most sustainable land developments. She has also become a trusted consultant to governments and municipalities that are rapidly moving toward more sustainable and fiscally prudent operating and management practices. Dr. Languell and Trifecta have received numerous awards from government and industry organizations such as the Urban Land Institute, National Association of Home Builders, Center for Sustainable Florida, and the Florida Green Building Coalition. She is also an award-winning author and was selected as a technical advisor and star for the Discovery Channel's environmental series Discovery "Project Earth." She holds a bachelor's degree in Materials Science and Engineering, a master's in Civil Engineering and Construction Management, and a Ph.D. in Civil Engineering and Sustainable Construction.