An Article Out Loud from the Domestic Preparedness Journal, January 04, 2023.
When disaster strikes, sometimes those trained to respond find themselves and their families fleeing from the fire. Once their families are safe, they jump back in to assist wherever needed. This scenario happened to one emergency manager when the Beachie Creek wildfire engulfed surrounding Oregon communities with little warning.
Narrated by MacGregor Stephenson.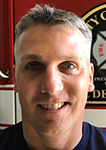 Charles (Chuck) Perino is the emergency manager and safety officer for the City of Albany, Oregon. He has worked in Oregon land use and emergency management planning for over 20 years. He graduated from the Naval Postgraduate School with a master's degree in Homeland Defense and Security in 2014 and earned his Certified Emergency Manager (CEM) accreditation in 2022.