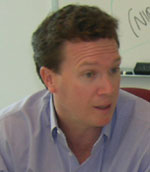 DomPrep's John F. Morton met with Roger Cressey, President, Good Harbor Consulting. The former Clinton and Bush White House senior critical-infrastructure protection advisor discusses Hurricanes Katrina and Rita and the need to reevaluate the DHS role in catastrophic disasters in order to improve federal response/recovery operations, particularly those involving use of the military when local/state capabilities are seriously lacking.
DomPrep.com divided the 31 minute 48 second interview into four segments.
Listen to Audio Segment One Katrina/Rita Response/Recovery
Comparing Katrina and 9/11 and learning the lesson that federal planning must anticipate widely varying local/state/regional response/recovery capabilities. The need for DHS to baseline preparedness standards for local/state authorities, particularly in major metropolitan areas, and to link compliance with grant allocations.
Duration: 8 Minutes 04 Seconds
Listen to Audio Segment Two Implications for DHS Reorganization
The expectation that Congress will "seriously examine" and slow the course of the DHS Second Stage Review. FEMA to remain in DHS. In a catastrophic disaster, assigning a first-responder liaison to the Homeland Security Operations Center (HSOC) to improve vertical information sharing. A prediction that DHS budgets will tighten, given the unbudgeted demands–e.g., the costs of regional rebuilding and the continued U.S. presence in Iraq–on the federal purse strings.
Duration: 10 Minutes 05 Seconds
Listen to Audio Segment Three Implications for use of the Military
The honest discussion expected on the role of the military to augment where local/state capabilities are lacking. The revisiting of the Posse Comitatus Act and/or its waiver following a future catastrophic incident. The need, when relying on military-oriented private-sector companies to augment on-the-ground security, for advanceentity and access-management protocols. The use of DOD as the lead federal agency–vice FEMA–when local/state capabilities are insufficient or destroyed.
Duration: 9 Minutes 13 Seconds
Listen to Audio Segment Four Information Sharing
Vertical information sharing and the need to overcome the situational awareness challenge at all levels of government. The import of private-sector linkages in horizontal information sharing at the local level, including the planning and exercising phases. The noteworthy Katrina responses demonstrated by FedEx and WalMart.
Duration: 4 Minutes 26 Seconds
Roger W. Cressey is president of Good Harbor, advising clients on homeland security, cyber security and counterterrorism issues. He is currently an on-air counterterrorism analyst for NBC News.
Previously, Mr. Cressey served as Chief of Staff to the President's Critical Infrastructure Protection Board at the White House from November 2001 to September 2002. From November 1999 to November 2001, Mr. Cressey served as Director for Transnational Threats on the National Security Council staff, where he was responsible for coordination and implementation of US counterterrorism policy. During this period, he managed the U.S. Government's response to the Millennium terror alert, the USS COLE attack, and the September 11th attacks.