The National Archives Building in Washington, D.C. has an inscription on the Northeast corner that reads, "What is past is Prologue." This simple but profound advice may easily be the emergency manager's most calming guidance. The journey starts right now.
This article tells a story about a future that will be much different than the past for any occupation delivering emergency services and especially those who are leading these emergency services. Three recent major disasters – wildfires in Australia and California and the Coronavirus (2019-nCoV) currently confirmed in 24 countries – will be used to illustrate how future disasters may be handled very differently from today. The examples also suggest an expanding skill set that future emergency managers will need to embrace.
According to the National Oceanic and Atmospheric Administration (NOAA), there were 14 billion-dollar disasters in the United States in 2019. The disasters ranged from floods and storms to wildfires in multiple locations. NOAA also documents that 2019 was the 10th consecutive year of 10 or more billion-dollar loses in the United States. This is a startling reality to many citizens and an alarming reality to many emergency managers. The plans, mutual aid agreements, evacuation procedures, and communication systems are all in place. Understanding the politics, logistical requirements, and hard work is required for containing any major disaster. In the past, the event trigger may have been different, but the incident response often looked the same.
With an appreciation for technology, emergency managers often know when to use it and how. For example, NOAA's Joint Polar Satellite System (JPSS) is used every day. The satellites are the heart of daily weather predictions and provide a range of 3- to 7-day forecasts that are vital for containing wildfires. NOAA satellite imagery is also key to situation awareness. However, there is a phenomenon occurring today in plain sight that will change the value of situational awareness forever. That phenomenon is artificial intelligence or AI. Although AI has been around for many years, learning how to use it for a more effective, faster, safer, and less expensive outcome will take time and patience.
Predictive Technology
The Pentagon wants to use AI to predict the next wildfire or earthquake. Officials and scientists agree this could be done. In 2018, the Department of Defense released its AI strategy, entitled "Harnessing AI to Advance Our Security and Prosperity," which makes incorporating AI part of its operational goal for the future.
One observation of how AI can help would be the actions of the Los Angeles Fire Department (LAFD) and numerous other California Fire Departments occurring now. LAFD uses a cyber-infrastructure system called WIFIRE, which helps predict the real-time movement of wildfires. This is an early illustration of machine learning. Another example would be how the Cincinnati Fire Department uses data analytics to optimize 80,000 emergency medical calls each year.
With predictive analytics and response capabilities, artificial intelligence tools can help emergency services find and mitigate potential risks and threats.
In a disaster situation, AI can predict and evaluate needed response actions. This feature is a valuable resource in emergency response efforts. Also, when coupled with the predictive capabilities of the internet of things (IOT) it provides a limitless source of data.
AI tools use technologies such as deep neural networks to find potential risks and threats that would never have occurred to a human. In addition, by using predictive analytics, an AI system may be able to determine appropriate actions ahead of time before reaching a point of failure.
On 30 January 2020, the World Health Organization (WHO) declared the Coronavirus a global emergency. In the period of several weeks, it had already exceeded the number of people infected during the 2002-2003 SARS (Severe Acute Respiratory Syndrome) in China. Technology such as AI helped with this global health problem by using natural language processing (NLP), machine learning (ML), and vast amounts of data. The company named BlueDot made its Coronavirus call on 31 December 2019. This was a week before the U.S. Centers for Disease Control and Prevention made its determination on 6 January 2020.
The illustration below, created at the Centers for Disease Control and Prevention (CDC), reveals ultrastructural morphology exhibited by the 2019 Novel Coronavirus (2019-nCoV). Note the spikes that adorn the outer surface of the virus, which impart the look of a corona surrounding the virion, when viewed electron microscopically. This virus was identified as the cause of an outbreak of respiratory illness first detected in Wuhan, China.
Another AI illustration is the robots that minimized human contact and stopped the transmission of the virus via person-to-person, potentially saving lives. According to news reports, robots were also delivering meals to persons quarantined in a hotel and in hospitals to deliver medicine.
Response Technology
Finally, no story that hinges so much on AI would be complete without addressing unmanned aerial vehicles (UAV) or "drones." Drones have become highly recognized and more effective over the past five years, especially in the fields of fire service and law enforcement. Initially, the general public's view of a drone was from a military action report in the news media, but that view has evolved.
There is a concerted effort on the part of academic centers, governmental organizations, entrepreneurs, industry leaders, and drone enthusiasts to research every type of potential drone use that would enhance service to citizens. For example, the California and Australian wildfires illustrated that drone technology is shaping wildfire response.
Smoke inhalation is very dangerous to helicopters flying over wildfire drop zones or conducting situation awareness missions. A drone will not be affected by the smoke and still will be able to perform as anticipated. Care is being taken in mission development to ensure that drones and AI systems in general do not outpace safety.
AI systems can fail if they are deployed outside of the context that they were designed for. A significant hurdle for AI systems is overcoming their limitations for being used in other related tasks, such as operating aircraft at night or using drones as aerial flamethrowers (Dragon drones), which are used to light back fires that help stop the advancing fires. At the same time, AI systems such as drones are very adaptable to different applications of the same skill.
Artificial intelligence and knowledge of it will increase the skill set of every emergency manager in the future. Without doubt, AI and drones will have missions in the future no one has even considered yet – and emergency managers should be ready for the challenge.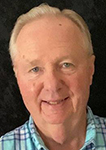 William H. Austin, DABCHS, CFO, CHS-V, MIFire, currently teaches in the Emergency Management Master's Degree Program at the University of New Haven in Connecticut (2016-present). He formed a consulting firm, The Austin Group LLC, in 2011. He served as fire chief of West Hartford, CT (1996-2011) and as the fire chief of Tampa, FL (1985-1995). He has a master's degree in Security Studies (Defense and Homeland Security) from the United States Naval Postgraduate School (2006) and a master's degree in Public Administration from Troy State University (1993). He is a member of the Preparedness Leadership Council and has served on various governing councils in Florida and Connecticut. Contact at whaustin.tag@gmail.com