An Article Out Loud from the Domestic Preparedness Journal. 
Public health preparedness has emerged and matured as a distinct discipline since the events of 9/11 and the subsequent Ameri-thrax attacks. Although, in the past, public health agencies were pushed to the forefront of various emergencies, the planning and infrastructure for public health emergency response were not funded and not in place until after 2001. This article describes the gaps that need to be addressed as the discipline continues to face public health emergencies worldwide.
Narrated by MacGregor Stephenson.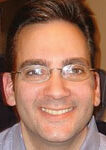 Raphael M. Barishansky, MPH, is the chief of Public Health Emergency Preparedness for the Prince George's County (Maryland) Department of Health. Prior to establishing himself in this position, he served as executive director of the Hudson Valley Regional EMS (Emergency Medical Services) Council, based in Newburgh, New York. A frequent contributor to the DomPrep Journal and other publications, he can be reached at rbarishansky@gmail.com.