An Article Out Loud from the Domestic Preparedness Journal, February 22, 2023.
Integrating information technology (IT) into emergency management and public safety agencies involves understanding an organization's structure, culture, and mindset, making sound investments, facing challenges, and implementing change. Communication at the federal, state, and local levels is improving, but gaps exist between adapting IT solutions and organizational leadership principles.
Narrated by Randy Vivian.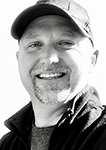 Critical Infrastructure Analyst, California Governor's Office of Emergency Services
Nathan DiPillo currently serves as an appointee of the California Governor's Office assigned
to the California Office of Emergency Services as a Critical Infrastructure Analyst in the State Threat
Assessment Center. Prior to state service, he functioned as a critical infrastructure specialist with
the Department of Homeland Security, Cybersecurity and Infrastructure Security Agency (CISA). He also
spent over 15 years with the Transportation Security Administration, where he assisted standing up the
agency with policy development, training, and recruitment. He has over 25 years in the emergency
management and security industry beginning as a resident firefighter/emergency medical technician. He
also served with the California State Military Department, Army National Guard in the 223rd Training
Command ending his career as a Sergeant First Class. During that time, he served in many units,
finishing his career attached to the 102nd Military Police Training Division in an Opposition Force
Unit. He served as a career coach with Hire Hero's USA and assisted in coordinating an emergency family
communications group in his local area. He possesses a Master of Emergency Management/Homeland Security
from National University and other Federal Emergency Management Agency (FEMA), U.S. Department of
Homeland Security (DHS), and military certifications.