Three experts present local and state key findings and actionable items that will help professionals in preparing for future incidents.
ABOUT THIS PODCAST
In cooperation with the National Association of Counties (NACo) and the International Association of Emergency Managers (IAEM), DomPrep is please to produce and host a ninety-minute (90) audio conversation that will discuss the pandemic and other concurrent incidents.
WHAT YOU WILL LEARN:
    •    Lessons learned from the pandemic
    •    How to apply these lessons to future plans, exercises, and training routines
    •    What happens when a pandemic collides with natural disasters, the George Floyd killing, mammoth power outage, and more
WHO SHOULD LISTEN:
Emergency managers, public health professionals, first responders, medical receivers, local-state-federal authorities, nongovernment organizations, and the private sector focused on preparedness and resilience.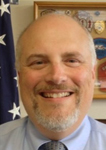 No tags for this post.