An Article Out Loud Flashback from the Domestic Preparedness Journal, October 18, 2017.
"Lone wolf" attacks like the Highland Park shooting at a July 4th parade continue to represent significant threats to communities as well as national security. Whether ideologically or non-ideologically inspired, mass shootings resulting in 10 or more fatalities have occurred more than 15 times over the past 10 years. Written soon after the deadliest mass shooting in U.S. history, this 2017 article shares the challenges communities face in identifying potential lone wolf attacks.
Narrated by Randy Vivian. 
Daniel Scherr holds a Ph.D. in Public Policy Administration with a terrorism, mediation, and peace focus. He is an assistant professor in Criminal Justice at the University of Tennessee Southern and program coordinator for the Cybersecurity Program. In addition, he is a Certified Fraud Examiner and Army veteran with two decades of experience in homeland security and operation.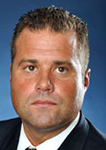 Richard Schoeberl, Ph.D., has over 25 years of experience, including the Federal Bureau of Investigation (FBI) and the National Counterterrorism Center (NCTC). He served in various positions throughout his career, ranging from a supervisory special agent at the FBI's headquarters in Washington, D.C., to acting unit chief of the International Terrorism Operations Section at the NCTC. In addition to the FBI and NCTC, he is an author of numerous articles on terrorism and security and has served as a media contributor for Fox News, CNN, PBS, NPR, Al-Jazeera Television, Al Arabiva Television, and Al Hurra. He works with the international nonprofit organization Hope for Justice, combatting human trafficking, and additionally serves as a professor of Homeland Security at The University of Tennessee Southern. He also is an advisor to the Domestic Preparedness Journal.