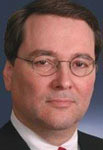 DomesticPreparedness met with Thomas J. Lockwood, Senior Advisor, DHS Office of Screening Coordination
The DHS lead for credentialing interoperability discusses how his office is establishing a common and extendible credentialing framework for authentication, incident management and other all-hazards and homeland security applications. How DHS screening coordination is separatingentification from the case-by-case need to grant and manage "privileges," e.g., site access. How the framework will address National Incident Management System (NIMS) resource typing and interface development.
Listen to Audio Interview
Download full audio interview to your MP3 player.
Thomas J. Lockwood has been Senior Advisor for Credentialing Interoperability in the Department of Homeland Security's Screening Coordination Office since April 2007 and is a member of the department's senior leadership team. Previously, he was the director of the Office of National Capital Region Coordination (ONCRC). Prior to his DHS service, he was the homeland security advisor and deputy director of Maryland's Office for Homeland Security, where he served on several executive boards including the U.S. Attorney Maryland District's Anti-Terrorism Task Force, the Department of Homeland Security's National Capital Region Senior Policy Group, the Maryland Maritime Security Group, the Maryland Terrorism Forum, the Washington Council of Government's National Capital Region Emergency Preparedness Council, and the National Emergency Management Association's Homeland Security Committee.
No tags for this post.