An Article Out Loud from the Domestic Preparedness Journal. 
Experience required. Many jobs require wide-ranging qualifications and expertise to be able to apply and interview. However, people often ask, "How can I get the experience if I cannot get a job?" A great way to get "a foot in the door" is through internships, which can be vital in the emergency management field. Multifaceted and sometimes fast-paced, this is the type of profession where one must have the drive and passion for helping others and serving the community. Despite some public misconceptions that emergency management is only active during an event (which is often the only time an agency receives media attention), it is a 24-hour-a-day, 7-days-a-week, 365-days-a-year profession. Therefore, exposure to what happens in the field on "blue sky days" and during an emergency or disaster is paramount for someone new to the profession to experience.  
Narrated by Bonnie Weidler.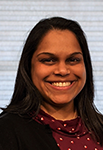 Sambavi "Sam" Jani is an emergency management specialist with the New Jersey Department of Children and Families, Office of Emergency Management. Her emergency management career spans government entities and the private sector. She began her career with Hurricane Sandy in 2012. Since then, she has had the opportunity to work at the state and local levels in planning and responding to various events. She has found her passion lies with the importance of preparedness, training, and exercises. She participated in NYC's John D. Solomon Fellowship for Public Service. She holds a Masters in Professional Studies in Emergency & Disaster Management from Georgetown University. She is also a member of International Association of Emergency Managers (IAEM) Region 2 and has earned the designation of a Certified Emergency Manager.