An Article Out Loud from the Domestic Preparedness Journal. 
There are moments during a disaster that something needs to be purchased. Depending on the nature of the purchase, it could be something small, perhaps something that can be purchased with a company credit card. On the other hand, it could be a purchase for millions of dollars and, not only do procurement laws come into play, but so could federal procurement laws if the organization is going to seek Federal Emergency Management Agency (FEMA) reimbursement after the disaster closes. In the moments of needing to spend large dollar amounts, the procurement office should be consulted, not because all purchases need to go through that office, but because they work year-round to establish relationships, contracts, and price lists with suppliers that could save time, money, and allow focus to be on the disaster at hand.
Narrated by MacGregor Stephenson.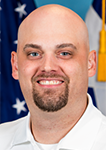 Brian McGinley, DBA, is the Section Chief, Finance and Administration for the Texas Division of Emergency Management and came to work for the agency in July 2021 from another Texas A&M University System member, Texas A&M University-Commerce. There he served as the contracting officer for the organization and worked as a business analyst to help department streamline business processes for efficiency and automation. Prior to joining the university, he began his career as a procurement specialist at the National Aeronautics and Space Administration (NASA) Shared Services Center at Stennis Space Center in Mississippi and became a lead for the NASA Small Business Innovation Research and Small Business Technology Transfer Program, processing over 1,000 contracts and purchase orders with an annual program spend of over $100 million.