An Article Out Loud Flashback from the Domestic Preparedness Journal, September 30, 2020.
On the afternoon of 23 August 2011, a rumbling in the ductwork was heard overhead in a chemistry classroom on the fourth floor of a brand-new building at Montgomery College in Maryland. As a laboratory safety class was getting ready to begin, the noise quickly transitioned to a swaying of the building – a motion that was soon recognized as an earthquake. The view from the window showed no ripples in the pond below, but dozens of students, faculty, and staff were evacuating multiple buildings. Although the consequences of an earthquake affecting the college would typically be low, the need to more formally address the risk than it had been in the past became apparent. By early in the Fall semester, the college developed a set of practical procedures and protocols to address the actual hazards that present themselves in a region of low earthquake risk, while considering the potential need to quickly assess damages and hazards that an earthquake might present.
Narrated by Randy Vivian.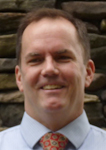 Stephen Maloney, CEM, is an emergency manager with the U.S. Federal Reserve Board. He has a B.S. in geology from the University of Maryland, an M.S. in environmental science and policy from Johns Hopkins University, and is a graduate of the National Emergency Management Executive Academy and Harvard University's National Preparedness Leadership Initiative. At the time of the 2010 and 2011 earthquakes described in this article, he was the environmental safety manager for Montgomery College, but had worked as a professional geologist for 16 years prior to taking that position. He spearheaded the college's effort to improve its earthquake preparedness and resilience efforts.