An Article Out Loud Flashback from the Domestic Preparedness Journal, May 08, 2013.
This 2013 article is a reminder of how the Pandemic and All-Hazards Preparedness Act was designed to support communities in preparing for, responding to, and recovering from major public health emergencies.
Narrated by Randy Vivian.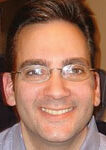 Raphael M. Barishansky, MPH, is the chief of Public Health Emergency Preparedness for the Prince George's County (Maryland) Department of Health. Prior to establishing himself in this position, he served as executive director of the Hudson Valley Regional EMS (Emergency Medical Services) Council, based in Newburgh, New York. A frequent contributor to the DomPrep Journal and other publications, he can be reached at rbarishansky@gmail.com.