An Article Out Loud Flashback from the Domestic Preparedness Journal, April 16, 2014.
Misinformation about the type of device used during the Boston Marathon bombing caused confusion. This 2014 article clarifies the important differences people need to know about explosive devices.
Narrated by Randy Vivian.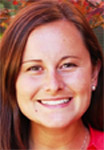 Courtney Gavitt, MS, is an analyst at Gryphon Scientific where she focuses on chemical, biological, radiological, nuclear, and high-yield explosive (CBRNE) consequence management in support of the Federal Emergency Management Agency. As a Nonproliferation Graduate Fellow at the Department of Energy (DOE), National Nuclear Security Administration (NNSA), she contributed to U.S. interagency export control and interdiction efforts designed to curb proliferation of CBRNE weapons and dual-use materials. She served as part of the U.S. delegation to the Proliferation Security Initiative and supported DOE's Australia Group representative. Before working at NNSA, she was a contractor at the U.S. Department of Homeland Security Customs & Border Protection. She holds an MS in biodefense from George Mason University.