An Article Out Loud from the Domestic Preparedness Journal. 
Mass shootings have spurred agencies to shift from reactive to proactive measures to mitigate threats and their consequences. Tactical medicine plays a significant role in reducing deaths associated with active assailant incidents. This article explains how trained first responders with the correct equipment and the courage to use it can be on the scene, saving lives even before the attacker is subdued.
Narrated by MacGregor Stephenson.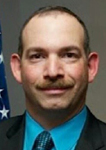 Ian Pleet is a veteran U.S. Navy Hospital Corpsman and has worked as a contractor in U.S. Northern Command (USNORTHCOM), U.S. Indo-Pacific Command (USINDOPACOM), and U.S. Central Command (CENTCOM). He is a Change Management Advanced Practitioner, FEMA Professional Continuity Practitioner, and Nationally Registered EMT.