An Article Out Loud from the Domestic Preparedness Journal. 
When an injury causes a life-threatening bleed, minutes matter. There may not be enough time for first responders to arrive on the scene, so immediate responders are needed. Knowing how to respond to this type of injury and being able to stop the bleeding are skills that everyone should learn. This article explains why and how to do that.
Narrated by MacGregor Stephenson.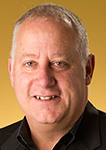 Andrew (Andy) Altizer Andy Altizer has over 20 years of emergency management planning experience at Georgia Tech, Kennesaw State, and Westminster Schools. In addition, he has another 10 years of planning experience in the military.