An Article Out Loud Flashback from the Domestic Preparedness Journal, May 03, 2017.
As in any community, a solid network of partnerships is needed to address the specific needs of its community members. Native American and Alaska Native populations span the nation, but face similar preparedness challenges. The National Tribal Emergency Management Council has been addressing resilience gaps since before this article was written in 2017. In June 2022, they will take another leap forward as they coordinate their first National Level Exercise (called "Thunderbird and Whale 2022") with public and private partners throughout the Pacific Northwest.
Narrated by Randy Vivian.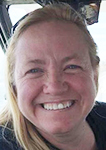 Executive Director and Founder, National Tribal Emergency Management Council
Lynda Zambrano currently serves as executive director of the Northwest Tribal Emergency
Management Council and the National Tribal Emergency Management Council (NTEMC). She is an adjunct
professor at Pierce College, Centers of Excellence for Homeland Security, authoring and teaching the
Grants Writing and Management curriculum. She began her career in law enforcement 20 years ago, working
with federal, state, local, and tribal governments. She has served as health director for several Tribal
Nations, which provided a unique perspective to bring together different disciplines to work together in
emergency management. She has an extensive background in finance, contracts management, and audit
compliance. She is a grants writer, assisting with securing more than 100 grants and tens of millions of
dollars for Tribal Nations in Washington state and across the country. She has received recognition for
her work in Indian Country from the Federal Emergency Management Agency, U.S. Department of Homeland
Security, and U.S. Bureau of Indian Affairs. She was inducted into the International Association of
Women in Emergency Management's Hall of Fame. She helped co-found the Fresh Food Coalition and, along
with the NTEMC's sister nonprofit, Farmer Frog, oversees food and supplies distribution in 35 states to
over three million people.