An Article Out Loud from the Domestic Preparedness Journal, October 05, 2022.
The Chemical Sector is one of 16 sectors identified as critical infrastructure under the Cybersecurity & Infrastructure Security Agency. Domestic Preparedness invited one subject matter expert to answer important questions about this sector and how the sector and its interdependencies can affect any community.
Narrated by MacGregor Stephenson.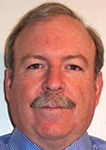 Patrick Coyle is a 15-year veteran of the U.S. Army and has worked for 26 years in the chemical process industry – including 16 years as a process chemist and four years as a quality assurance manager. He also has taught industrial safety and has been a freelance writer since 2006. For the past sixteen years, he has used his unique background to write a chemical security blog, the "Chemical Facility Security News."