An Article Out Loud from the Domestic Preparedness Journal, November 02, 2022.
How the war in Ukraine will end is unclear. However, research shows that there is the potential for devastating effects on a global scale. As such, it is important for emergency planners to reassess their all-hazards plans to ensure their communities identify the threats and ensure their planning processes include procedures and resources to respond to these threats.
Narrated by Randy Vivian.
Richard Schoeberl, Ph.D., has over 25 years of law enforcement experience, including the Federal Bureau of Investigation (FBI) and the National Counterterrorism Center (NCTC). He has served in a variety of positions throughout his career, ranging from a supervisory special agent at the FBI's headquarters in Washington, DC, to unit chief of the International Terrorism Operations Section at the NCTC's headquarters in Langley, Virginia. Before these organizations, he worked as a special agent investigating violent crime, human trafficking, international terrorism, and organized crime. He was also assigned numerous collateral duties during his FBI tour – including as a certified instructor and member of the agency's SWAT program. In addition to the FBI and NCTC, he is an author and has served as a media contributor for Fox News, CNN, PBS, NPR, Al-Jazeera Television, Al Arabiva Television, Al Hurra, and Sky News in Europe. Additionally, he has authored numerous scholarly articles, serves as a peer mentor with the Police Executive Research Forum, is currently a professor of Criminology and Homeland Security at the University of Tennessee-Southern, and works with Hope for Justice – a global nonprofit combatting human trafficking. He also serves on the Domestic Preparedness Advisory Board.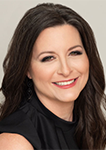 Tanya Scherr holds a Ph.D. in Public Policy and Administration with a Healthcare and Emergency Preparedness focus. She is an associate professor in Healthcare Administration for the University of Arizona – Global Campus and has over 28 years' healthcare experience. Along with being a Certified Fraud Examiner since 2011, she is also a former firefighter-EMT, previously licensed in several states, as well as holding national certification. Dr. Scherr has held several executive and board of director positions for community non-profits that focus on women's equality, domestic violence, and sexual assault.
Daniel Scherr holds a Ph.D. in Public Policy Administration with a terrorism, mediation, and peace focus. He is an assistant professor in Criminal Justice at the University of Tennessee Southern and program coordinator for the Cybersecurity Program. In addition, he is a Certified Fraud Examiner and Army veteran with two decades of experience in homeland security and operation.