An Article Out Loud Flashback from the Domestic Preparedness Journal, November 28, 2012. 
Before passenger aircraft were hijacked and used as weapons, and bombs were smuggled inside underwear and shoes, such attacks may not have seemed likely to occur. Similarly, the reproduction and dispersal of the "eradicated" smallpox virus may seem to be an extremely small risk, but early planning is required to cope with what is still a potentially viable threat.
Narrated by Randy Vivian.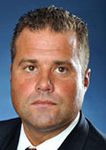 Richard Schoeberl, Ph.D., has over 25 years of experience, including the Federal Bureau of Investigation (FBI) and the National Counterterrorism Center (NCTC). He served in various positions throughout his career, ranging from a supervisory special agent at the FBI's headquarters in Washington, D.C., to acting unit chief of the International Terrorism Operations Section at the NCTC. In addition to the FBI and NCTC, he is an author of numerous articles on terrorism and security and has served as a media contributor for Fox News, CNN, PBS, NPR, Al-Jazeera Television, Al Arabiva Television, and Al Hurra. He works with the international nonprofit organization Hope for Justice, combatting human trafficking, and additionally serves as a professor of Homeland Security at The University of Tennessee Southern. He also is an advisor to the Domestic Preparedness Journal.