With Amtrak's rail lines spanning communities across the United States (and parts of Canada), it is in a prime position to engage the whole community and to build national resilience. Planning, training, and educational efforts provide a way to bring employees, passengers, and other community stakeholders into the preparedness cycle.
In 2012, Amtrak created the Emergency Management and Corporate Security (EMCS) department, which focuses on emergency preparedness, business continuity, corporate security risk strategy, and training and exercises. The department utilizes a whole community approach throughout program implementation. Whole community to Amtrak means planning and preparing for emergencies while promoting resilience with employees, passengers, and the cities that Amtrak serves through intercity passenger rail service. With a wide and diverse community, from New York Penn Station – North America's busiest passenger terminal – to Vancouver, British Columbia, Amtrak works to meet the needs of all the communities it serves by focusing on several core principals: engaging communities; empowering local action; and planning, training, and educating community members.
Engaging Communities
Amtrak recognizes that, when communities prepare together, they can collaboratively protect against, respond to, and recover from incidents across the country. Amtrak's partnerships extend not only to federal, state, local, and tribal partners, but also to host railroads, private sector industry, and passengers. The composition of Amtrak's community and the needs of its partners, regardless of the size of the city or geographic region, are taken into account when planning and preparing.
Building and maintaining partnerships is essential to the overall success of whole community engagement at Amtrak, which serves more than 500 stations in 46 states, the District of Columbia, and three Canadian provinces, and transported approximately 30.8 million passengers in 2015; 11.7 million along the U.S. northeast corridor alone. With this vast area, it is important to foster partnerships that understand commonalities and overlapping interests. EMCS management is dispersed regionally to educate and integrate into the community, recognizing that partnerships are more sustainable and attractive when all parties benefit from the relationship. Widespread engagement allows Amtrak to understand the necessities of stakeholders when developing programs that promote safe and secure passenger rail travel.
Empowering Local Action
Amtrak's 11 regional emergency managers, located at the largest stations across the country, help prepare their communities for emergencies along America's Railroad®. These regional emergency managers are supported by a corporate planning and preparedness team that develops strategic programs to be implemented in each region. Regional managers conduct training, integrate into regional emergency planning processes, and educate people on the benefits of rail travel. By embedding into the regions, communities are empowered to play an active role in developing ways in which they can leverage Amtrak as an asset in an emergency and are better prepared in the event of rail incidents in their communities. The teamwork of EMCS in implementing whole community programs is a key component for success.
Planning, Training & Educating Community Members
Planning with stakeholders to devise preparedness initiatives allows Amtrak to more effectively react to the needs of the whole community. Integration and education of emergency plans is instrumental in aiding in a response. Training and exercising these plans strengthens regional responses to an incident given that response and recovery operations vary across the enterprise. Training extends to onboard train crews and their ability to provide emergency instructions. Developing realistic training scenarios allows employees to communicate and coordinate with passengers and first responders and builds resilience. In addition to the robust training program delivered to its employees and stakeholders, Amtrak produces security awareness campaigns to educate passengers.
Education of passengers on preparedness activities is an integral part of Amtrak's whole community approach. In partnership with the U.S. Department of Homeland Security (DHS), Amtrak maintains a television network in stations that provides vital security information to passengers. The Amtrak Security Awareness Network (ASAN) presents educational programming informing passengers on how to prepare and be safe as they travel, with 59 monitors in 22 of Amtrak's busiest stations. Programming includes evacuation instructions (in multiple languages) of stations and trains, ways to report suspicious activity or behavior through Text-A-Tip, as well as key national campaigns such as Run. Hide. Fight.® in the event of an active threat. Text-A-Tip allows passengers to report suspicious behavior directly to the Amtrak Police Department, National Communications Center via SMS text messaging to APD11 (27311).
In addition to the ASAN, Amtrak representatives value the opportunity to have face-to-face interactions with partners and passengers to reinforce the importance of preparedness. EMCS collaborates with the Federal Emergency Management Agency, local response agencies, the American Red Cross, and more during outreach events such as National Preparedness Month. This provides local communities with tools and ways in which they can be better prepared for emergencies on or off the Amtrak system. Building a resilient community strengthens ways in which the whole community is informed, engaged, and prepared.
To learn more about Amtrak's Emergency Management & Corporate Security Department, visit https://www.youtube.com/watch?v=9AvV8nvCCqs or contact EMCS at EMCS@amtrak.com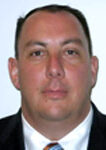 James (Jim) Metzger was appointed as the deputy chief of emergency management in Amtrak's Emergency Management & Corporate Security Department in August 2012. He is responsible for leading Amtrak's planning, preparedness, training, exercise, disaster response, and recovery effort enterprise wide, as well as compliance for 49 CFR Part 239 with host railroads and federal partners. From 1990 to 2008, he worked for the Southeastern Pennsylvania Transportation Authority Police Department, where his last position was as counter-terrorism director and commander of special operations. He directed officers in special weapons and tactics, canine, intelligence, and community policing. He authored, "Preventing Terrorist Bombings in United States Subway Systems." He is a veteran of the United States Marine Corps. He graduated Summa Cum Laude with a Bachelor of Science degree in criminal justice and world religions from Chestnut Hill College, in Philadelphia. In addition, he earned a Master of Arts degree in security studies (homeland security and defense) from the Naval Postgraduate School in Monterey, California, and a masters in organizational leadership from Villanova University in Pennsylvania. He is a Department of Homeland Security, certified Master Exercise Practitioner, and Business Continuity Professional; as well as a Certified Business Continuity Professional from Disaster Recovery International.