An Article Out Loud Flashback from the Domestic Preparedness Journal, February 24, 2016.
With Amtrak's rail lines spanning communities across the United States (and parts of Canada), it is in a prime position to engage the whole community and to build national resilience. Planning, training, and educational efforts provide a way to bring employees, passengers, and other community stakeholders into the preparedness cycle.
Narrated by Randy Vivian.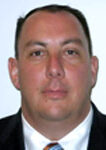 James (Jim) Metzger was appointed as the deputy chief of emergency management in Amtrak's Emergency Management & Corporate Security Department in August 2012. He is responsible for leading Amtrak's planning, preparedness, training, exercise, disaster response, and recovery effort enterprise wide, as well as compliance for 49 CFR Part 239 with host railroads and federal partners. From 1990 to 2008, he worked for the Southeastern Pennsylvania Transportation Authority Police Department, where his last position was as counter-terrorism director and commander of special operations. He directed officers in special weapons and tactics, canine, intelligence, and community policing. He authored, "Preventing Terrorist Bombings in United States Subway Systems." He is a veteran of the United States Marine Corps. He graduated Summa Cum Laude with a Bachelor of Science degree in criminal justice and world religions from Chestnut Hill College, in Philadelphia. In addition, he earned a Master of Arts degree in security studies (homeland security and defense) from the Naval Postgraduate School in Monterey, California, and a masters in organizational leadership from Villanova University in Pennsylvania. He is a Department of Homeland Security, certified Master Exercise Practitioner, and Business Continuity Professional; as well as a Certified Business Continuity Professional from Disaster Recovery International.