Once a public health outbreak occurs, it is too late to prepare. In 2014, Ebola highlighted gaps in the nation's preparedness for an unexpected viral threat that gained worldwide attention. Having supplies on hand or knowing how and where to get them when needed is the best way to protect public healthcare workers. The Strategic National Stockpile bridges these public health response gaps.
When the Strategic National Stockpile (SNS), originally named the National Pharmaceutical Stockpile (NPS), was established in 1999, the primary emphasis was on acquiring pharmaceuticals and other medical material to rapidly deploy to the site of a national health emergency. Although still in the business of stockpiling product for large-scale public health responses, the organization's focus has shifted to the value partnerships bring to the national public health landscape. As the largest stockpile in the United States, the SNS has evolved into a key player in facilitating partnerships and bridging gaps in national preparedness.
The Past 16 Years The SNS has grown since its inception. In the early years, NPS developed a number of 12-hour push packages, which were filled with a variety of critical pharmaceuticals and medical material to assist responders in making valuable interventions to protect the public's health against chemical, biological, radiological, and nuclear (CBRN) threats. Following the events of 9/11, additional emphasis – and funding – was placed on acquiring product to prepare for large-scale CBRN events such as an anthrax attack. As a result, the federal government made rapid acquisitions of substantial quantities of antimicrobials and other medical supplies that would be needed during an emergency. The cost of these investments and their ongoing management and maintenance are significant.
In 2003, the NPS became the Strategic National Stockpile. At that time the federal government was still very involved in ensuring medical material was rapidly available for use during and emergency. In 2004, through Project Bioshield, Congress established the Biomedical Advanced Research and Development Authority (BARDA) to invest in these materials, collectively known as medical countermeasures, to ensure that appropriate material was available for predictable threats. In partnership with the National Institutes of Health, the Centers for Disease Control and Prevention, and other federal agencies, BARDA has created new medical countermeasures designed to improve public health response to specific threats.
Programmatic focus also evolved from not only making certain to have the right medical countermeasures but also to ensure that partners were able to use the products. Early SNS partnerships focused primarily on state and local public health and other federal agencies. SNS staff worked with state and local public health partners to create a system to deploy, distribute, and dispense/administer the critical assets in the SNS.
Shifting Paradigms in Public Health Response Over the course of its existence, the mission of the SNS has continued to grow. In addition to preparing for CBRN events, SNS now is positioned to respond to natural disasters like hurricanes and continues to expand to prepare for emerging infectious diseases, including pandemic influenza. Through these experiences, the program has developed expertise and established partnerships with industry to further advance public health preparedness. Staff members have worked to position the SNS as a government leader in medical supply-chain logistics. The growth of the SNS, not only in material held but also in expertise and partnerships, places the SNS in a position to lead the government in new directions for public health preparedness and response. This new role for the SNS came into clear focus in the domestic response to Ebola in 2014.
When the first Ebola patient in the United States wasentified, the SNS was called to procure personal protective equipment (PPE) to support the healthcare delivery sector. Product requirements were based on CDC's current PPE guidance to healthcare workers. Upon release of the guidance, demand for products spiked, and SNS staff found that many of these critical materials were not readily available in the commercial supply chain. SNS staff worked with manufacturers to understand the production capability and distribution challenges of this market and recognized very quickly that the supply chain, operating based on just-in-time inventory, was unable to fill the majority of orders placed in the normal expected timeframe with delays to fill orders ranging from 6 to 16 weeks. To increase U.S. Ebola PPE readiness, SNS was charged with stockpiling the necessary PPE supplies to distribute to any facility that needed to care for a patient with Ebola. The first objective in acquiring this stock during an actual event was that acquisitions should not disrupt the commercial market in supplying these vital materials to healthcare partners.
As part of this large PPE purchase, SNS staff collaborated with the Department of Health and Human Services/Assistant Secretary for Preparedness and Response's Critical Infrastructure Program to extend the reach and discuss objectives with important partners representing industry. SNS staff also worked across the federal interagency family to understand what other government PPE requirements and acquisitions were in progress that could impact this supply chain. Armed with this information, the staff worked with CDC's contracting personnel to craft purchases designed to develop small stocks without disrupting orders for healthcare partners and other federal agencies.
Identifying & Filling Gaps Knowing this would limit the SNS's immediate ability to acquire a stock that could be "the solution" for a hospital caring for an Ebola patient, SNS staff carefully established new relationships with key PPE manufacturers. SNS staff worked with CDC's Rapid Ebola Preparedness Teams to help potential Ebola treatment centers assess their readiness from a PPE perspective. Through these assessments, supply gaps wereentified that allowed SNS staff to provide expert advice to industry partners so they could strategically allocate scarce materials to places, defined by the National Tiered Strategy Framework, most likely to encounter an Ebola case in the United States and who needed additional PPE supplies. Staff also worked directly with the healthcare community to synchronize its requirements with the suppliers' capabilities to ensure demand was met in the best way possible.
Even with efforts to help supply keep up with demand, SNS staff realized that if a person under investigation for Ebola presented at a U.S. hospital, a gap may exist between the amount of PPE needed versus what the hospital had on hand and what the market could immediately provide. In this instance, where the amount of product on hand plus what could immediately be provided by distributors and manufacturers was not enough, SNS acted to bridge the gap and provide product to the hospital until the market could deliver these vital supplies. SNS developed PPE kits that could be quickly placed within facilities in order to: allow time to coordinate with commercial suppliers; make rapid delivery a reality; ensure sustained access to necessary PPE; and safely care for patients.
What SNS Does Successfully In the 16 years since the first 12-hour push packages were developed, SNS certainly has shifted its focus and has grown dramatically in both product and expertise. The SNS will continue to stockpile products for specified threats, especially those events where tight time constraints for delivery and enormous quantities would exceed commercial market capability. The SNS also will continue to hold otherwise unavailable products designed for specific, uncommon interventions.
However, staff members recognize that a wide variety of products are required for successful public health interventions in emergencies, and holding all these products is not feasible – even for the SNS. As seen during the U.S. response to Ebola, the SNS may not always hold the right product or the best product for every given event, especially those that are unexpected. What it can successfully do is work with its partners – industry, healthcare, and public health, specifically – to create a multi-tiered approach and successfully bridge gaps to ensure the best intervention possible.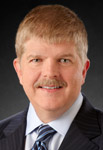 Greg Burel is director of the Strategic National Stockpile, managed by the Department of Health and Human Services' Assistant Secretary for Preparedness and Response. As head of the nation's largest stockpile of medicines and supplies available for emergency use, he is a leading expert on medical supply chain management in the United States. With more than 35 years of civil service, he has risen through the ranks of the federal government, beginning his career at the Internal Revenue Service and serving in leadership roles in both the General Services Administration and the Federal Emergency Management Agency. In 2006, he assumed the helm of Strategic National Stockpile operations. He was awarded the Samuel J. Heyman Service to America Medal for Management Excellence and selected as a National Academy of Public Administration fellow in 2016.