A recent (14 May 2009) Heritage Foundation Lecture – "Unfinished Business at FEMA" – made the case that the development of recovery doctrine should be a key priority of the Federal Emergency Management Agency (FEMA). The past decade has highlighted the turmoil that occurs, after response operations reach their closing stages, during the recovery phase of a serious disaster. Claire Rubin, author of The History of Emergency Management: 1900-2005 (Public Enterprise Risk Institute, 2007), and Ted Steinberg, author of Acts of God (Oxford University Press, 2000), have documented the phenomenon effectively in those books.
The stakes are high for politicians who are not prepared to play their roles effectively. The range of potential hazards is daunting and 24×7 news coverage brings the recovery operations into the nation's living rooms. Public-safety personnel and first responders get the job done during the response phase of an incident, but they must also be both able and willing to pass the responsibility to others when the recovery begins.
The restoration of housing, infrastructure resilience, and business continuity is the key to recovery from a catastrophic disaster. Land development, engineering, and project management – an umbrella term that includes zoning, design and construction codes, building permits, and both civil and environmental engineering – are the core issues involved in recovery operations. The management of the recovery is fundamentally a state, local, and private-sector responsibility. FEMA itself is not organized, resourced, or trained to lead and/or direct recovery operations, nor does it have a surplus pool of dedicated CBRNE (chemical, biological, radiological, nuclear, and explosives) personnel waiting in the wings to carry out those tasks.
A Logical Distribution of Roles and Responsibilities
State and local elected officials must therefore lead and direct most if not quite all recovery efforts. States are usually in charge of large-scale recovery operations and for that reason should incorporate a disaster-housing plan in their HUD (the federal Department of Housing and Urban Development) Community Development Block Grant programs. Guidance is available, though, from the DHS/FEMA-developed National Housing Strategy, which was written in 2008 with the expectation that state housing plans would drive recovery preparedness, with DHS/FEMA retaining the responsibility of developing a National Recovery Doctrine.
Local governments generally have responsibility for such inter-related matters as zoning, building codes, environmental systems, and local housing programs. However, as Steinberg points out in Acts of God, local control of development can either contribute to increased risk or, on the other hand, can mitigate losses and help create more resilient communities.
Business continuity and supply-chain resilience are vital to short- and long-term recovery operations. Maintaining or restoring the infrastructure and ensuring building resilience are the keys to an effective recovery strategy. In fact, the American Society of Civil Engineers (ASCE) has established specific initiatives to focus attention on the nation's infrastructure and recovery capabilities, and the ASCE infrastructure "report card" includes a wealth of data on the condition of the nation's infrastructure.
A recent report – Policies That States Need to Recover from Disasters – developed by the U.S. Chamber of Commerce-Business Civic Leadership Center identified 10 policies, several of them focused on private-sector coordination, which states could use to more effectively recover from a disaster.
Reasonable Expectations and a Ticking Clock
Effective national doctrine would clarify the private-sector roles of post-disaster recovery for engineers – as well as housing, healthcare, and many other professionals – who play key roles in the recovery process.
In December 2008, the White House-led Homeland Security Council initiated a Disaster Recovery White Paper process to define the scope and organization of an initiative to develop a consensus National Recovery Doctrine that would assign the specific roles and responsibilities for federal interagency, state and local, and private-sector entities. The DHS/FEMA Preparedness Directorate has been assigned the responsibility of documenting the process – working in coordination with the DHS Office of Infrastructure Protection and with other DHS/FEMA divisions responsible for mitigation and long-term recovery operations. As with the National Response Framework (NRF), the success of this effort also requires the significant involvement of state, local, and private-sector interests as well as the DHS/FEMA National Advisory Council (NAC).
There are several private-sector organizations that can provide input to the process. They include but are not limited to the Disaster Recovery Institute (DRI), the Urban Land Institute (ULI), the Urban Institute (UI), and the National Governors Association (NGA).
Emergency managers and other working professionals seem to agree that the National Recovery Doctrine must be finished soon – in any event, well before the next major disaster occurs. Various polls and surveys suggest, moreover, that the public at large will not accept anything less. Over the past decade the American people have become much more knowledgeable about reasonable expectations, and experts in the field of recovery operations know that the clock is ticking.
For additional information about: The Heritage lecture [by Dennis R. Schrader, author of the preceding article], see http://www.heritage.org/press/events/ev051409a.cfm
The infrastructure report card, see http://www.infrastructurereportcard.org
The engineer's role in emergency management, see http://ciasce.asce.org/podcast/engineersrole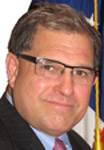 Dennis R. Schrader is President of DRS International LLC and former deputy administrator of the Federal Emergency Management Agency's National Preparedness Directorate. Prior to assuming his NPD post he served as the State of Maryland's first director of homeland security, and before that served for 16 years in various leadership posts at the University of Maryland Medical System Corporation. Dennis currently provides Senior Consulting services at Integrity Consulting Solutions, LLC.