The healthcare industry has numerous supply chain challenges as it strives to meet patient and facility needs during routine operations as well as during small and large surge events. The current process has gaps that need to be filled. However, there is a possible solution.
Federal agencies have promulgated publications regarding supply chains and how they work. The Centers for Disease Control and Prevention (CDC) published a "Supply Chain Disaster Preparedness Manual" aimed at advising healthcare organizations (and other enterprises) on how to prepare for disasters. U.S. Department of Homeland Security's Federal Emergency Management Agency published a booklet entitled, "Supply Chain Resilience Guide." However, neither publication adequately discusses "The Industrial Base" for the supply chain, and how industry and the supply chain are affected by large spikes in demand for products, such as those that occur during a disaster.
Stockpiling Concerns
Surges in product demand (orders) affect the entire supply chain. In 2014, the United States had three cases of Ebola in North Texas and one case in Nebraska, which required 21 days of monitoring for Ebola symptoms and was later cleared. It was difficult to obtain personal protective equipment (PPE) during that scare – all for just three cases of Ebola. This raises the question, "How is it possible that the supply chain ran short of PPE with only three cases of Ebola?" The answer is that many hospitals across the country checked their stocks of PPE and other items and "stocked up" on PPE plus a lot more. Whenever there is a rush to purchase the same products at the same time, shelves empty very quickly – "the empty shelves syndrome."  These runs on the supply chain can upset "just in time" (JIT) inventory for months at a time.
In addition, hospital stockpiling causes a "yoyo effect" with periods of plenty, followed by long-term backorders at the local, regional, and national levels. In order for JIT to work, it has to correlate with regular usage, not cache (stockpile) levels. Hospitals that replenish their caches do so based on their own storage objectives rather than their product usage. When enough healthcare organizations order based on their individual stockpile, the relationship between weekly use and weekly orders break down. There will be a tipping point where medical manufacturers and distributors product demand forecasts become meaningless. It may take many years for America's medical supply chain to recover.
Manufacturing & Distribution Concerns
Offshore single-source manufacturing of medical products is problematic during large-scale, long-term disasters. Considering the problems in 2017 with intravenous (IV) fluids after hurricane Maria in Puerto Rico, multiple sources of medical products are needed – including in the United States. During a large-scale epidemic – or worse, a pandemic – nations will likely take care of their domestic needs, before shipping products to other countries. Once again, JIT may fail in the face of a surge event. The industrial base cannot instantaneously gear up for a surge event. For this reason, federal agencies should pay civilian medical supply chain vendors to build large federal inventories for use by federal agencies during large-scale disasters.
Federal agencies would do well to use national distributors' inventory management subject matter experts before advising healthcare or other enterprises on disaster supply chain issues. The supply chain is complicated and has many tentacles in a global economy. Civilian enterprise inventory management/supply chain experts are invaluable sources for advice on critical supply chain issues for use before, during, and after disasters. Federal planners must use private industries for building supply systems robust enough to remain operational during and after large-scale, long-term disasters.
Solution: Build a Public-Private Sector National Medical Materials Management System
The following outline of the process supports the idea of building an enhanced, resilient supply chain that is lean and economical during normal times, yet resilient enough to support the medical community during large surges in medical material demand.
The JIT operational construct will continue to work well for day-to-day medical material demands. There has been some guidance for healthcare facilities to build caches/stockpiles to improve medical inventories at the health facility level. This is a bad decision because hoarding weakens the accuracy of computer demand forecasts. Unreliable computerized demand forecasts eventually may result in persistent backorders and product shortages. Distributors need to stress to their healthcare customers the negative aspects of cache building on the overall supply chain enterprise.
Once a federal agency (most likely the U.S. Department of Health and Human Services) develops medical material requirements listings based on a national hazard vulnerability assessment (HVA), the product of the national HVA would be a list of federal planning scenarios. These planning scenarios would describe the most likely disasters, the numbers and types of casualties and fatalities of each scenario, and the types and quantities of medical products needed to support each planning scenario. The finished product would constitute a national medical materials requirements listing. The federal government would then provide the funds for civilian distributors to purchase, store, manage, release (as directed), and recover federal medical material as appropriate. This would be a separate government-owned inventory of materials along side of the distributor's inventory, which is ready to use in a disaster.
The federal agency would convene a group of private sector senior level Inventory management subject matter experts (distributors inventory management team), to use the national medical materials requirements listing to build a national materials management system, representing both medical/surgical and pharmaceutical product distributors. There would be a senior-level government expert with deep knowledge of the various inventory accountability models attached to the private sector subject matter team. Federal financial subject matter experts are proficient in setting up government financial obligation systems, like a medical/dental stock fund in use in armed forces medical materials management systems. The final product will be a robust, resilient national medical materials management system that will ensure availability of the right materials in the right quantities at the right place in good times and in bad. The goal is to maximize the number of lives saved and minimize suffering during and after future disasters.
This program would enable medical distributors to manage both "private sector-owned" material (JIT for normal times) and government-owned/contractor managed just in case material (JIC for emergencies) that can flow into the private sector supply chain when the federal government orders the release of government-owned material during disasters or contingencies.
A plan for building a resilient supply chain that is equally beneficial during normal operations and during high-demand surges involves three key steps. First, the government requirements team produces the national medical materials requirements listing for the top federal planning scenarios and hands those listings off to the private sector inventory management team, along with a federal fund citation needed to purchase the federal requirements. Second, using the provided federal fund citation, the private sector inventory management team procures government-owned materials and develops a stock rotation, warehousing site plans and inventory location plans. Third, a federal oversight agency reviews and approves all plans, processes, and procedures and approves the national medical materials management system for adoption.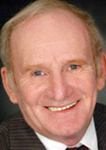 James M. Rush Sr. has over 45 years of healthcare administration and community emergency management experience in the U.S. armed forces, the U.S. public-health community, and the nation's civilian healthcare industry. He served as the Region III project officer for the National Bioterrorism Hospital Preparedness Program, and the CDC's National Pharmaceutical Stockpile, always dedicated to assisting healthcare and public health organizations prepare for "all hazards" events and incidents. He is author of, among other published works, the "Disaster Preparedness Manual for Healthcare Materials Management Professionals," and a self-published book "Unprepared."