Threats come in many forms. Some occur naturally from weather events. Some occur maliciously through technological manipulations. Some occur violently with traditional weaponry or weaponized materials. Some threats combine two or more of these and other threats. The preparedness community is tasked with identifying potential threats in order to mitigate or thwart the devastating consequences should a threat manifest in disaster.
The 21st century is proving to be a period of rapid change, with technological advances being both beneficial and detrimental to disaster mitigation efforts. For example, social media disseminates valuable real-time information for disaster response as well as false information to change public opinion or hinder response. Social media has even become a tool to support hybrid warfare. The only way to effectively combat hybrid threats is through interagency relationships and collaboration.
Such relationships ensure development of procedures and processes that promote dialogue and problem-solve for threats and concerns that affect disparate communities. Healthcare supply chain management is one example where interjurisdictional collaboration is critical. Building codes and benchmarks facilitate the development of strategies and materials to fortify structures and minimize risk to persons and property. Technology provides tools to enhance crisis management through surveillance, connectivity, and situational awareness technologies.
Of course, the community's part in threat detection and mitigation cannot be understated. Threat management involves engaging the community with effective messaging, providing stakeholders with the right tools, and ensuring an appropriate level of engagement from the public. Avoiding the societal response extremes of anxiety and apathy can help to build a strong threat detection, mitigation, and response base upon which planning, communication, technology, and crisis management can thrive.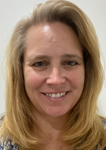 Catherine L. Feinman, M.A., joined Domestic Preparedness in January 2010. She has more than 30 years of publishing experience and currently serves as editor of the Domestic Preparedness Journal, DomesticPreparedness.com, and the DPJ Weekly Brief, and works with writers and other contributors to build and create new content that is relevant to the emergency preparedness, response, and recovery communities. She received a bachelor's degree in international business from the University of Maryland, College Park, and a master's degree in emergency and disaster management from American Military University.