An Article Out Loud Flashback from the Domestic Preparedness Journal, March 08, 2006.
The laws are in place but are often unenforceable. Transportation assets are available but are almost always overcommitted. Clear mandates from local, state, and federal decision-makers are obviously needed to restore order from the current chaos. This 2006 article describes the challenges associated with contractual agreements between ambulance providers and facilities. During disasters, these contracts may be difficult to fulfill.
Narrated by Randy Vivian.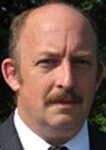 Joseph Cahill is the director of medicolegal investigations for the Massachusetts Office of the Chief Medical Examiner. He previously served as exercise and training coordinator for the Massachusetts Department of Public Health and as emergency planner in the Westchester County (N.Y.) Office of Emergency Management. He also served for five years as citywide advanced life support (ALS) coordinator for the FDNY – Bureau of EMS. Before that, he was the department's Division 6 ALS coordinator, covering the South Bronx and Harlem. He also served on the faculty of the Westchester County Community College's paramedic program and has been a frequent guest lecturer for the U.S. Secret Service, the FDNY EMS Academy, and Montefiore Hospital.