The success of an emergency response is often based on the knowledge and abilities of the people in place to manage the situation and implement action plans and procedures. Each person plays a critical role, from top leadership to frontline workers. Leadership styles  vary, but effective leaders build relationships and bridge communication gaps to motivate teams that begin long before they arrive at ground zero. In addition, good leadership strengthens the workforce and improves decision-making in areas like fortifying the physical environment, thus creating more resilient communities.
However, it is essential to note that leadership is not a proprietary term reserved only for incident commanders, and no matter what someone's rank, the learning process should never end. For example, volunteer coordinators and emergency response trainers must recruit, educate, and train future responders. Preparing people to run toward danger when others run away requires a leader who inspires action and cultivates positive relationships to maintain strong workforces when needed. As threats evolve, even educators and other leaders must keep learning and adapting to stay prepared.
Leading through a crisis is only needed, though, if the emergency happens. With continued research and analysis, some leaders look into the future to find ways to thwart crimes through environmental design, data management, technology systems etc. This December edition of the Domestic Preparedness Journal shares various ways readers (aka leaders) can build strength and resilience within their workforces and structures.
As another year ends and a new one begins, many people start thinking about New Year's resolutions. We can start with leading by example and asking ourselves: What would make me a better leader? How could I cultivate relationships and strengthen my workforce? What knowledge or skills can I share with others to better prepare them? What do I need to learn to build my skills and abilities? What programs, systems, structures, etc., do I need to update or change to prepare for and mitigate threats? Am I ready if I need to respond to a disaster?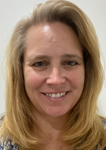 Catherine L. Feinman, M.A., joined Domestic Preparedness in January 2010. She has more than 30 years of publishing experience and currently serves as editor of the Domestic Preparedness Journal, DomesticPreparedness.com, and the DPJ Weekly Brief, and works with writers and other contributors to build and create new content that is relevant to the emergency preparedness, response, and recovery communities. She received a bachelor's degree in international business from the University of Maryland, College Park, and a master's degree in emergency and disaster management from American Military University.