An Article Out Loud from the Domestic Preparedness Journal. 
Telemedicine capabilities have become valuable medical tools to provide life-saving treatment to patients where and when needed. Similarly, off-site skills and knowledge can be transferred to on-site law enforcement personnel through teleforensics to identify and thwart threats, while increasing crime clearances. This article describes how expanding capabilities, identifying needs, delivering instructions, and facilitating remote applications are examples of technology serving as a force multiplier across disciplines.
Narrated by MacGregor Stephenson.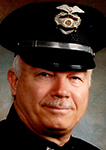 Michael Melton, MA, MPA, retired from the Los Angeles County Department of Public Health in 2022 after more than 17 years as a senior disaster services analyst. His roles included bioterrorism and emergency preparedness, emergency logistics coordination, emergency operations, and Subject Matter Expert for Workplace Violence, as well as the lead for the agency's Active Shooter Preparedness and Response training. Previously, he served as a U.S. Navy Midshipman, a captain in the Los Angeles Police Department, an expert witness for security and law enforcement procedures, a technical specialist at the National Center for Forensic Science, professor/instructor in criminal investigation and security at L.A. Harbor College, and security screener at Los Angeles International Airport (LAX) for the Transportation Security Administration. He holds a master's degree in teaching/curriculum, a Certificate in Technology-Based Education, and a Master of Public Administration. The author may be contacted at mmelton1@ca.rr.com.