An Article Out Loud from the Domestic Preparedness Journal, November 16, 2022.
Since the emergence of COVID-19, many trainings have had to adapt to an online presence. In one case, an active shooter training not only successfully transitioned to support the online delivery of these skills, but the developer embraced it and has now made it publicly available for everyone.
Narrated by Randy Vivian.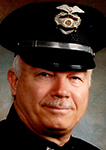 Michael Melton, MA, MPA, retired from the Los Angeles County Department of Public Health in 2022 after more than 17 years as a senior disaster services analyst. His roles included bioterrorism and emergency preparedness, emergency logistics coordination, emergency operations, and Subject Matter Expert for Workplace Violence, as well as the lead for the agency's Active Shooter Preparedness and Response training. Previously, he served as a U.S. Navy Midshipman, a captain in the Los Angeles Police Department, an expert witness for security and law enforcement procedures, a technical specialist at the National Center for Forensic Science, professor/instructor in criminal investigation and security at L.A. Harbor College, and security screener at Los Angeles International Airport (LAX) for the Transportation Security Administration. He holds a master's degree in teaching/curriculum, a Certificate in Technology-Based Education, and a Master of Public Administration. The author may be contacted at mmelton1@ca.rr.com.