At the International Association of Emergency Managers annual conference in October 2016, Domestic Preparedness Advisor Anthony Mangeri sat down with Richard Serino, distinguished visiting fellow at Harvard's National Preparedness Leadership Initiative, to discuss leadership as it relates to crisis communications.
Assistant Vice President, Mitigation and Resilience, The Olson Group Ltd. Anthony S. Mangeri, MPA, CPM, CEM, has been an active practitioner in emergency management for over 35 years. Currently, he serves as assistant vice president for mitigation and resilience at The Olson Group Ltd. and president of Region 2 of the International Association of Emergency Managers (IAEM). Prior to his current position, he served as a town manager where he facilitated the community response to the COVID-19 pandemic, was responsible for local emergency preparedness and disaster recovery operations, and oversaw the establishment of a municipal police department. For more than 10 years, he served as New Jersey's State Hazard Mitigation Officer, building systems to identify hazards, prioritize risk, and mitigate threats. During the 9/11 attacks, he served as operations chief at the New Jersey Emergency Operations Center coordinating the state's response to the World Trade Center attacks. He has been a volunteer firefighter and emergency medical technician for more than 30 years. He earned a Master of Public Administration from Rutgers's University. He also completed a fellowship in Public Health Leadership in Emergency Response, is a Certified Professional Coach, and served on professional committees, including the ASIS Fire and Life Safety Council and executive committee of the IAEM-USA Board.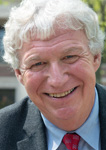 Richard Serino is a distinguished visiting fellow at Harvard School of Public Health, National Preparedness Leadership Initiative. He was appointed by President Barack Obama and confirmed by the Senate as the Federal Emergency Management Agency's (FEMA) 8th deputy administrator in October 2009 and served until 2014. He responded to over 60 national disasters while at FEMA. During Super Storm Sandy, he was the lead federal area commander for New York and New Jersey. Prior to his appointment as deputy administrator, he spent 36 years at Boston Emergency Medical Services, where he became chief and oversaw 35 mass causality incidents. He also served as the assistant director of the Boston Public Health Commission. He is currently a senior advisor for numerous organizations such as Airbnb and the MIT Urban Risk Labs. He attended Harvard University's Kennedy School of Government Senior Executives in State and Local Government program, completed the National Preparedness Leadership Initiative (a joint program of the Harvard School of Public Health and the Harvard Kennedy School of Government), and graduated the Executive Leadership Program, Center for Homeland Defense and Security at the Naval Postgraduate School.