An Article Out Loud Flashback from the Domestic Preparedness Journal, January 30, 2013.
Joplin High School and Sandy Hook Elementary School both suffered devastating disasters – one natural and one manmade. In both cases, the residents rallied behind their schools and their communities to rebuild and recover. Lesson learned: From unexpected events, unexpected leaders often emerge who are both willing and able to lead their communities back to some form of "normal."
Narrated by MacGregor Stephenson.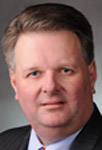 Marko Bourne is a principal at Booz Allen Hamilton and a DomPrep40 advisor. He is leader of both the company's FEMA market team and its Emergency Management and Response practice, and has more than 27 years of experience in: emergency services; emergency management; policy, governmental, and legislative affairs; and public affairs. Before joining Booz Allen Hamilton he was FEMA's director of policy and program analysis (2006-2009) – and, earlier, director of business development for homeland security (2004-2006) at Earth Tech Inc./Tyco International. He also served as acting director of the DHS National Incident Management System Integration Center and as deputy director of FEMA's Preparedness Division (2003-2004).